Bohag Bihu or Rongali Bihu is one of the main festivals of Assam. It is celebrated in the month of April when the Assamese New Year starts. It is the festival when the agrarian Assamese society gets ready for the next agricultural cycle. The festival is full of fun and joy and hence, it is also called Rongali. Bohag Bihu or Rongali Bihu is the time when the boys get ready with their dhol and pepa to woo their loves in Bihu dance. It is the festival of dance and songs, visiting relatives, and neighbors seeking their blessing for the whole new year.
This photo essay would introduce you with some of the rituals and snapshots of Bohag Bihu.
Goru Bihu-The first day of Bohag Bihu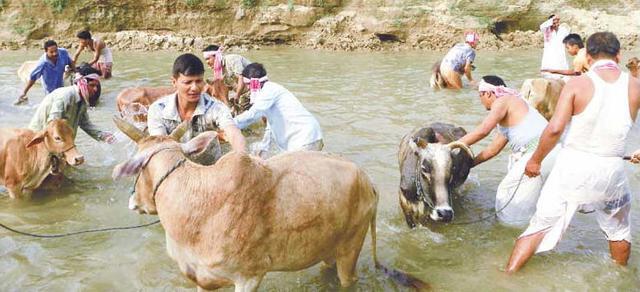 On the first day of Bohag Bihu, all the cattle in a household gets special treatment. They are given ceremonial baths after smearing black gram and turmeric paste. This is a community ritual where all the cattle of a locality is taken to a community pond or nearby river. The small boys drive the cattle to the pond or river with two herbs, digholoti and makhiyoti and sing,
"Digholotir dighal jaat, makhi maro jaat".
It is believed that when the cattle are specked by these herbs, the flies won't bother them for year long. After the bath, the cattle are adorned with garlands made by vegetables like bottole gourd, eggplant, thekera. They are also given the vegetables to eat while singing the following song,
"Lao kha, bengena kha, bosore bosore barhi ja : ma saru, bapera saru, toi hobi bor goru."
In the evening, they are given jug or a special herb infused smoke to make the gohali or farm hygienic.
Manuh Bihu- the second day of Bohag Bihu
On the second day, the Assamese people take ceremonial bath with the paste of black granite and turmeric. It is believed that these pastes help to fight any kind of skin anomaly.
After the bath, the blessing is sought from the elders with offering them bihuwan. Bihuwan is a gamosa which is made especially for the Bihu. Jolpan, consisting laru, pitha, sandoh, curd etc are served.